A scientific, humanistic, proven approach to measurably improve trust and teamwork.
---
Through engaging in The Reina Team Trust Scale®, you discover: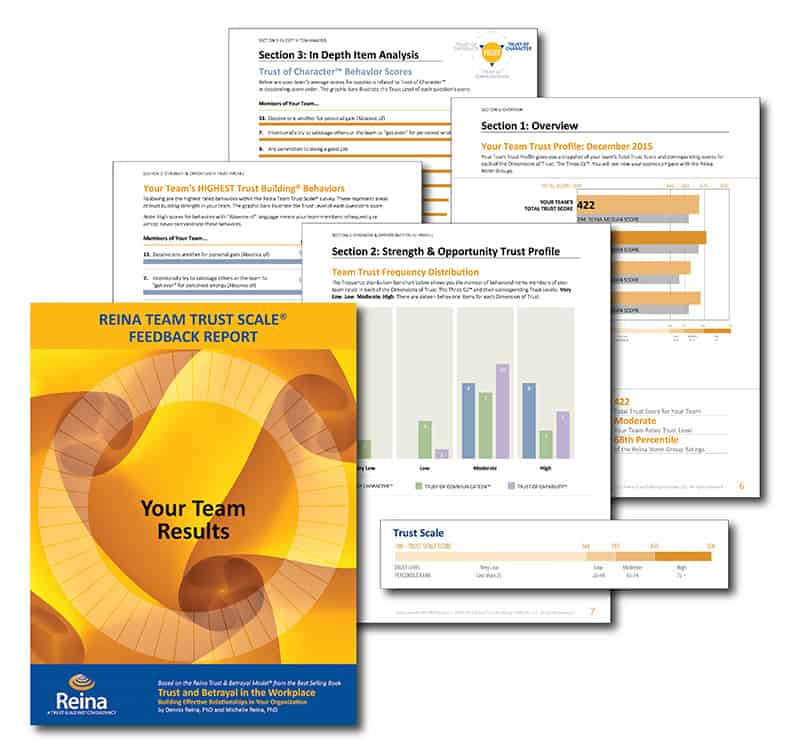 ---
Get equipped to build trust, tap one another's potential, and do more than simply achieve your team's objectives...surpass them.
Please connect with us for a complimentary team trust assessment consultation.
Where trust stands in your team.
Learn your team's level of trust. Discover exactly where trust is high, moderate, low, or very low. See where trust stands along each Dimension of Trust: Trust of Character®, Trust of Communication®, and Trust of Capability®. Gain perspective on how your team's level of trust relates to hundreds of other teams in our global database.
Your areas of deepest strength.
Learn the behaviors you practice with one another that build the highest trust. See your untapped strengths, and learn how to leverage those strengths to optimize teamwork and collaboration. (In our experience, people get excited when they see what makes their team strong and unique.)
Your areas of greatest opportunity.
Pinpoint which behaviors may be unintentionally eroding trust in your team. Get an honest picture of where you need to pay attention to how you're behaving with one another. In a safe way, open the door for conversations that need to happen. Discover key behaviors that, if shifted, will be game changing for your team's effectiveness.
How to take trust and teamwork to the next level.
Get the data, skills, and concrete action plan you need to address your team's vulnerabilities, leverage your strengths, build trust, and take teamwork and collaboration to the next level.
The Reina Trust Scales are statistically reliable and valid assessments built on The Reina Trust and Betrayal Model®, a proprietary, research-based model that's been used by leaders and organizations to strengthen trust and achieve business results for nearly 25 years.
Administered through a secure online server, people can answer survey questions anonymously, and therefore honestly.
The result of this honesty?
Breakthrough conversations, deeper level connections, and aligned action based in mutual understanding and trust.
WHAT PEOPLE SAY...
"This tool marries trust work with quantitative data, translating it into an easy-to-understand roadmap for the team. You are masters at making such rich research and data elegant and relatable."
~ Sharon Ryan, Manager Operations Support & Delivery, Qantas Airways Limited