A scientific, humanistic approach to measurably improve engagement, culture, and change management.
---
Through engaging in The Reina Organizational Trust Scale®, you discover: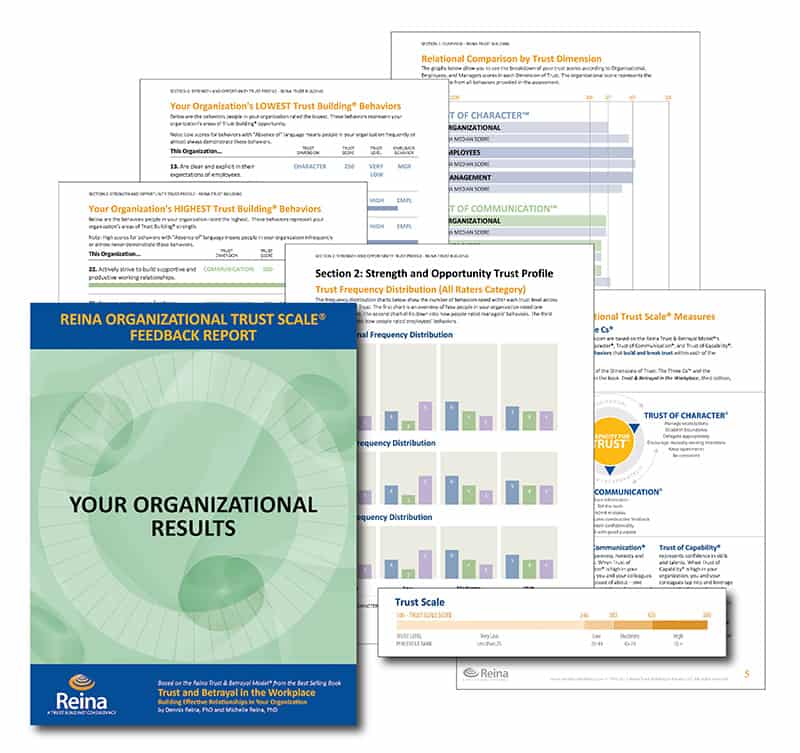 ---
Get equipped to build trust, begin firing on all cylinders, and achieve more than you'd imagined possible.
Please connect with us for a complimentary organizational trust assessment consultation.
Where trust stands in your department, division, or organization.
Learn your level of trust. Discover exactly where trust is high, moderate, low, or very low along each Dimension of Trust: Trust of Character®, Trust of Communication®, and Trust of Capability®. Gain perspective on how your trust levels relate to other organizations in our global database.
Key behaviors people already practice to build trustworthy relationships.
Get a clear picture of your strengths - the ways people relate to one another that are healthy and productive. Learn to leverage those behaviors to address where trust may be vulnerable.
Key behaviors that threaten trust and organizational performance.
In a safe way, understand behaviors that create silos, block collaboration, and erode engagement. Pinpoint the behaviors that, when shifted, will strengthen trust and support people to navigate change. (After all, the behaviors that build trust are the same behaviors that help people navigate the unknown.)
The benefits of people at every level of responsibility stepping into trust building together.
In our experience, when an entire department, division, or organization commits to trust building, people are inspired to action. Why? People want to work in a high trust culture. When they get a detailed roadmap for how to build such a culture, they can't wait to get started.
The Reina Trust Scales are statistically reliable and valid assessments built on The Reina Trust and Betrayal Model®, a proprietary, research-based model that's been used by leaders and organizations to strengthen trust and achieve business results for nearly 25 years.
Administered through a secure online server, people can answer survey questions anonymously, and therefore honestly.
The result of this honesty?
Breakthrough conversations, deeper level connections, and aligned action based in mutual understanding and trust.
WHAT PEOPLE SAY...
"Leaders can't address problems they don't know about. Reina trust assessments give leaders an honest read in a safe way. Crippling 'cultures of nice' are broken through, subterranean talk is surfaced, and solutions are created. The ROI of these assessments is huge."
~ Barbara Fly Dierks, Coaching Talent Manager, Center for Creative Leadership